Companies' Mistakes When Opening an R&D Center In Ukraine
The number of foreign development companies that create their R&D centers in Ukraine is increasing every year. But when these organizations begin to realize their desires, many different obstacles start to appear on the way. Even the most straightforward procedure, such as a purchase or lease agreement, can suddenly become a huge problem. So let's take a look at the most common issues to make it easier for your company to open an R&D center in the future.
1. Cooperation with several recruiting agencies at the same time
Many IT companies strive to start working immediately with the services of 3-4 local recruiting agencies. They think that this way they can find suitable candidates faster. However, in real life, this will not help you speed up the hiring process. Moreover, it can, on the contrary, slow down the process. Remember, quantity does not always mean quality. Also, in most cases, recruiting managers send out the same interview invitation to experienced candidates. In this case, applicants may get angry and decline the invitation.
2. Analysis of the labor market through particular online IT communities
Salaries and other benefits offered by foreign corporations in Ukraine may be unreasonable. Usually, companies turn to Ukrainian online platforms such as Dou.ua or Djinni.co. Here you can find up-to-date statistics about the IT industry: top employers, top organizations, salary statistics, etc.
3. Term of R&D
Foreigners are often surprised when they see an unfurnished office for rent. Unlike the United States, in Ukraine, tenants have to make inexpensive repairs and furnish an office at their own expense. But abroad, the landlord is responsible for maintaining the office, and all types of repairs, and these costs are usually included in the rent. In this case, you might be better off extending the deadline for opening the R&D department so that you have time for a minor rework.
4. Without information about the premises
If you have already decided to build a research and development center, then you will be interested in issues such as the number of rooms, cleaning services, security, and more. But the most important thing is to calculate the metric area of ​​the working space correctly. Based on the legislation of Ukraine, each employee needs at least a six sq.m. working area, and this is important! You need to understand that sometimes the discomfort that your employees are experiencing can be caused not only by moving to other offices but also by the lack of the necessary workspace.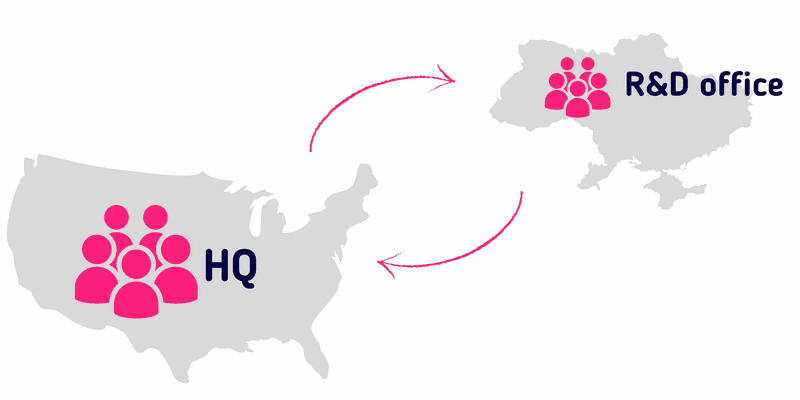 5. Staff members
Foreign companies often hire specialists in Ukraine as employees for their companies. But Ukrainian labor legislation offers various options for employment. One of them is private entrepreneurship, which is very popular at the moment. Moreover, by working with private entrepreneurs, you can significantly save on taxes and avoid meeting with labor inspectors.
6. Agreement on intellectual property rights
Pay special attention to this point. Since many US IT companies are not aware of local laws in Ukraine, in most cases, intellectual property rights remain with the developers, which leads to conflicts and even litigation. In this case, it is necessary to think in advance about the transfer of intellectual property.
7. Lack of brand and reputation
Every organization strives to hire an experienced expert. But what about your brand? Improve your reputation as an employer in the marketplace to attract as many professionals as possible. Today, many employees are picky enough and may not accept a job offer from a little-known company with a low reputation.
Output
Any company that seeks to open an office in Ukraine can face these problems. Of course, it can be pretty challenging to avoid all the points, especially if this is a new country for you. But, there are cases when development companies have successfully achieved their goals and started a business in Ukraine, turning to local companies for help. So if you need help opening an R&D center, we're here to help you! Contact us right now.