In-House vs Outsourcing Software Development: Advantages And Risks
You strive to create your product quickly, efficiently, and on a low budget. But how do you turn your idea into reality? How to choose between in-house software development or outsourcing? What are the pitfalls on both sides? If you are interested in the answers to these questions, then you are in the right place. Let's take a closer look at the difference between internal and external software development and help you make the right choice.
What is in-house development?
A company that aspires to create a software product can also create an internal development team. It entails the process of recruiting, sourcing, and hiring software developers, QA engineers, UX / UI designers, testers, and other professionals required to build a successful project.
Benefits of in-house software development
Long term product development
If you are developing a solution that requires a long-term commitment, you can better choose an in-house team. In this case, they can fully devote to the project and its functions and easily and quickly make changes if necessary.
As a company grows, all employees have common interests and share a shared vision. It means that they will make every effort to achieve all the goals of the company.
It is essential to work with professionals who fit the culture of your company. Having in-house developers who are no more than capable of doing the job and getting along with you and your team are usually more productive than trying to work with the best engineers who are not particularly culturally appropriate.
Short terms of work execution
The internal team allows you to track all stages of the development process. If something goes wrong, you can immediately notice it.
Compliance with company standards
Controlling a company's coding standards is critical. With in-house software development, you can quickly decide what works best for the product's future product service processes.
Disadvantages of hiring in-house developers
You may need more time to find suitable developers and arrange with them to join your team. And even then, chances are they won't be able to work with you right away. If your project time is ticking, you need the right people now, who you can find from an external freelancer or specialized vendor.
Unless your company has a large IT department or an unlimited budget for hiring a large pool of specialists, you probably won't be able to meet all your needs with specialized professionals.
Hiring talent costs a lot of money. Do you need a specialist in a specific field on an ongoing basis? Will it be billable in the future when your product is completed?
Annual salaries, benefits, and other expenses are all provided by a full-time, full-time team.
Overloading internal resources
If the product you need experts for is not the company's core business, such a project can significantly burden your resources. And overloading can lead to dissatisfied employees and suboptimal products.
When do you need to hire an in-house team?
In case you are planning a long-term project, this is where it makes sense to hire and support an internal development team. But, you can also team up with an outsourcing partner for long-term cooperation.
In case you have an unlimited budget and want to have your team, you can let your team make mistakes and streamline their process, and you don't need to release your product right away.
Software outsourcing or why do you need it?
Outsourcing is the practice where an outsourcing company develops a product for your company. Like an in-house team, outsourcing has its pros and cons.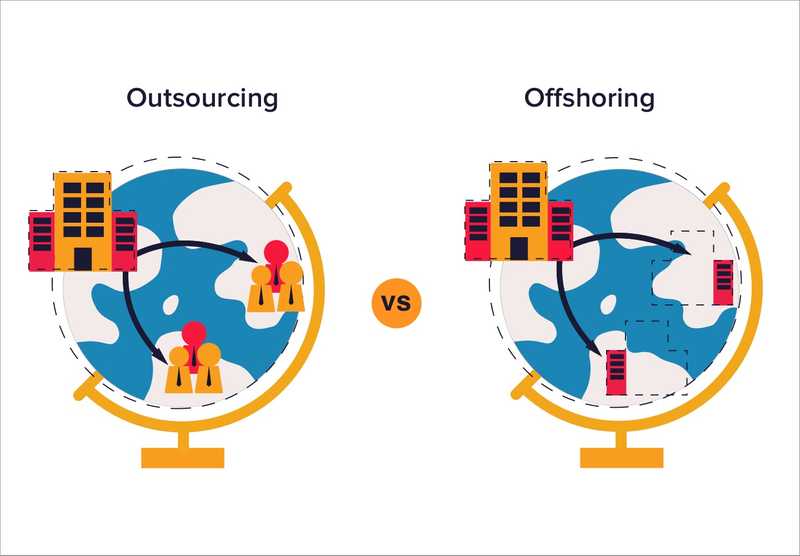 Advantages of outsourcing:
The cost of outsourcing is more reasonable than developing your own software since, as a rule, outsourcing development teams have extensive development experience in various fields. If a problem arises, you don't need to hire new people to join your IT team. With the right planning, you can achieve the same goal with a smarter budget.
Outsourcing allows you to avoid the serious hiring and staffing issues that can arise with internal development. You can add features that are important to your customers at any time, no matter what skills they need. This significantly shortens the product launch time.
If you urgently need to expand your development outsourcing team or reduce the staff, you will not lose money. You can easily replace the person you need.
By contacting a development company, you will get streamlined development processes and deep experience in developing varying complexity applications. All processes will be fine-tuned according to your requirements.
Disadvantages of outsourcing:
Most of the communication with your external team will be through email, Slack, Skype, or any other app that doesn't carry the same weight as face-to-face communication.
Besides, you're more likely to find yourself working with people who don't speak the same language as you, which will only make matters worse.
Transparency and security
Lack of direct personal control and communication can cause a lack of trust during product development. But you can avoid this point by choosing the right partner. Make sure you agree on reporting, confirmation, and meeting schedules that are convenient for both parties.
If you're outsourcing your project, make sure your code works, and you can maintain it without a contractor. Otherwise, your business will become dependent on an outsourcing team. So, with the right partner, you can avoid this disadvantage.
When to outsource app development?
You don't have the required experience
In this case, by outsourcing your product creation, you will benefit from the software development company's skills and experience and get the desired product.
You don't have enough specialists
If you are a midsize business with your own development team, you may still need certain skills or experience to make your project more successful. Of course, hiring the right people full-time is quite expensive. Therefore, outsourcing makes sense in this case.
You want to reduce development costs and speed time to market
- you don't have an internal team, and you don't have time to create and maintain one. But you want to create an app quickly and at a reasonable cost.
- you have an internal development team, but you don't want your employees to waste their time on a new project. This is where hiring an external team will help you save resources for strategic tasks.
What is the best choice?
Summing up the issue of outsourcing and software development options by an internal team, it must be said that both models have their advantages, but there are also disadvantages. The choice depends on the specifics of your project. But remember if developing or maintaining web applications is not your company's primary focus, it can be a considerable problem for your IT staff. They may lack the experience or understanding to do this. Then, after trying unsuccessfully to do it yourself, you might get a third-party product. In this case, you shouldn't choose to create your own product.
Thus, it would be wiser to outsource it. An app development company that is an expert in its niche will make your product competitive and attract more customers. Fortunately, there are many business application development services out there today, so it shouldn't be difficult for you to choose the one that works best for your mobile development project.
By the way, if you need help finding the candidates you need, we are always happy to help. You can contact us right now or go to our website for detailed information.