blog
The Main Benefits Of A Remote Team comparing to In-house Employees
What used to be a strange dream at the beginning of the 20th century is now an essential part of our modern life. Today, in this situation, remote work has become a lifeline for most companies and organizations. Even the most avid office work fan, such as banks, realized that remote work is not a bad option, and if all approaches are well thought out, it can be even more effective than working in the office. Besides, new changes in the labor market have brought new approaches to the HR workflow. In this article, we will look at the most popular benefits of a remote team comparing to inhouse employees.
The popularity of a remote work
Based on some Upwork research, 63% of US companies have remote workers. As for those who are not yet working remotely, 37% say that they will switch from their current job to one that would enable them to work remotely, at least part-time.
The Global State of Remote Work also claims that 16% of all global companies are now entirely remote, and 52% of employees worldwide work remotely at least once a week. So, the remote workforce has become very popular.
Why Remote Team?
Let's look at all the advantages and pitfalls that you may encounter when hiring a remote team. Let's start with the pros.
Such teams correctly evaluate the time required to implement all the functions of the project. When you know the number of hours, you know how much it will cost to develop a product, and this is the only price you have to pay.
This is one of the most critical issues most companies face. For example, hiring specialists in North America is often disadvantageous because their rates are several times higher than those of developers located in Eastern Europe.
Access to the excellent talent pool
The search for remote development teams gives you a much higher chance of finding professionals who will meet all the established requirements.
Quick start of development
A close-knit team can quickly begin work on a project since the group is already formed and ready to start at any time.
Ideal for both small and medium businesses
Remote specialists give a particular advantage to companies and start-ups that do not have sufficient funds for hiring and subsequent staff service.
The work of office teams and remote developers requires constant monitoring. In the first case, you will have to spend time and go into the details of all stages or hire another employee who will do it for you. Remote teams already include an experienced project manager who is always up to date and reports all the details of your project.
Cons of remote development team
In addition to these advantages, cooperation with remote employees also has several pitfalls.
Lack of knowledge about your product
Communication with remote teams starts from scratch. But no one knows your product better than you. In this case, to achieve the desired results, you need to find a team that has experience in implementing similar projects and can understand various issues to overcome them in the future.
In some cases, the location of a remote team can cause some time management problems. Significant time differences can interfere with the ability of specialists to respond to your requests instantly.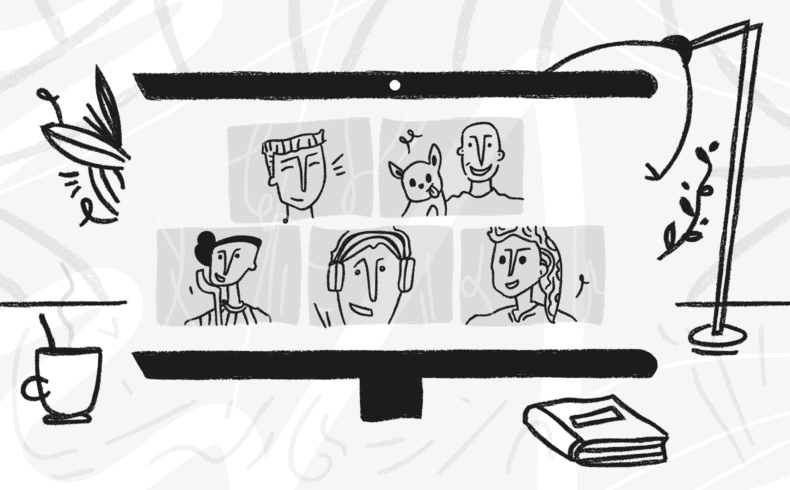 How about In-house team?
Perhaps now you consider this type of cooperation as an old school. But, this still has several advantages.
Full-time employees do their work daily on time. Also, personal communication simplifies the perception of information, and tasks are completed faster and with the least deviation from the essence.
Imagine that you already have a small team of IT professionals who work on several projects, and you want to add new features that do not correspond to the experience of your employees. In this case, it would be wiser to simply expand the existing team.
Fast feedback and control
Of course, we cannot deny that any team needs constant monitoring. In this case, we are not talking about monitoring workers, but about the essential control of tasks. Continuous attention to projects and immediate feedback are invaluable, especially when it comes to security or some mistakes.
Drawbacks of creating your in-house team
Hiring an experienced developer is a task that can last from a couple of weeks to several months. Now imagine how long it will take you to assemble the entire team of specialists.
The painstaking work of finding and studying a large number of resumes and interviewing candidates can interfere with your essential duties. Moreover, you should be prepared to invest a large sum of annual salaries for each new employee.
Lack of qualified specialists
It is tough to gather a team of professionals who are now available, ready to move, and work at a moderate rate.
In addition to the annual salary of the employee and commissions for recruitment services, you will have to rent an office, buy furniture and adequately organize the workspace for each team member.
Hiring qualified developers is not an easy task, and turning them into a team that works together to create software products also requires more time and effort.
Make your choice right now
Today, hiring remote developers has become quite popular practice throughout the world as enterprises continue to adapt to a rapidly changing work culture.
High-speed Internet and a wide selection of available tools make the transition to remote collaboration more than ever without a problem. And the successful experience of world players continues to prove it.
If you are currently considering remote hiring options, but you still have any questions, contact our specialists and get a consultation right now.