blog
Why Does Your Business Need a Dedicated Development Team or Is There Another Alternative?
Creating a high-quality and popular IT project consists of many essential aspects. But one of them is the ability to build a reliable development team.
Of course, each client chooses a more convenient pricing model with an IT contractor. It also depends on the size of the project, its goals, characteristics, and budget.
However, a dedicated development team is one of the best ways to build long-term projects with frequently changing requirements compared to alternative interaction models. This method is flexible enough in workload and tasks, costs and resources, and, of course, the team itself.
What Is A Dedicated Team Model?
The dedicated team model is a team of specialists that will work remotely on your project to help you reduce time to market and improve your company's business processes. Such a team is not an extension of your internal team but a separate unit with its own structure and management.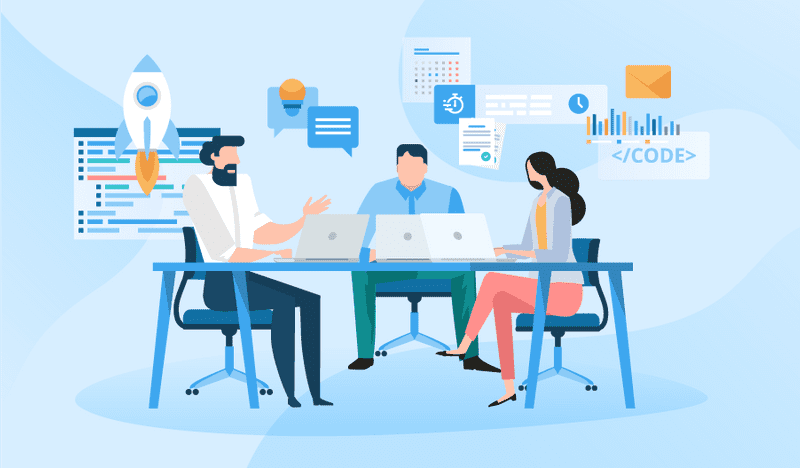 Advantages and Disadvantages of Dedicated Commands
Benefits
The benefits of this collaboration model include quality project development within a limited time frame. In other words, you do not have to constantly monitor the development process of your software, as there will be a dedicated manager for this.
Access to a large pool of talent

You gain access to and have the opportunity to select the best technical talent from around the world and find people who share the values ​​and mission of your company. Moreover, you are not limited by geographic location and can hire the necessary specialists from anywhere in the world.

Working only on your project

A dedicated team works exclusively on your product. When you sign a contract with a team supplier, notice the clause that says that developers must not perform tasks unrelated to your project.

Easy control

You will be able to control the entire development process and organize it the way you like and assign tasks to all team members. In this case, a dedicated team manager acts as your assistant and is responsible for providing your team with the necessary equipment and other resources.

Team scaling

Dedicated teams are easily scalable, so you can ask your outsourcing partner to expand the team with additional specialists or, conversely, reduce it slightly.
Drawbacks
A dedicated software development team is an excellent option for many technical projects, but its drawbacks are also.
Different time zones

Different time zones can be a big problem when American or Australian tasks are outsourced to Europe. But in this case, an experienced team provider can help organize a convenient workflow for both parties.

Mental differences

Cultural and mental differences are also a widespread problem in any international cooperation. Of course, if you hire a team from China to create a product for the American market, the cultural differences will be too pronounced, affecting the final result. For this reason, American startups are being outsourced to Europe, especially Western Europe. There is no significant difference in mentality like Asian developers have.

Time to build a team

In most cases, you have a chance to get a ready-made team right after partnering with an outsourcing provider. But sometimes, the requirements for a project are pretty specific, and it becomes necessary to assemble a team of hard-to-reach specialists. And this, in turn, requires additional time.
Is there any other alternative?
Sure! This is the creation of an R&D center.
The R&D center is a popular way for those who decide to move away from the usual forms of outsourcing. In other words, it is a representation of the company in another country with lower team costs. It combines cost savings, scalability, quality, and other benefits for your business.
Full control

The main difference between an R&D center and a dedicated team model is the ability to control all costs and internal processes without any intermediaries.

Constant cooperation

Dedicated specialists are hired for a specific period, while the R&D team will work full-time. Thus, it helps to ensure high involvement in product development since the developers can see the results of their work.

Company brand

A research and development center is your own office, corporate culture, and rules. You can choose people with the necessary experience and skills for your team. All of these points can improve your organization's brand and greatly simplify the recruitment of offshore personnel.
In addition, by cooperating with our Techflower team, you will receive additional benefits such as:
Fast hiring

Our talent pool can help you recruit the talent you need faster with our vast talent base. We can provide you with the best candidates with a proven track record. What's more, you'll stay on top of any changes throughout the hiring process with weekly resumes processed and interview reports.

Legal regulations and intellectual property law

Our company will provide you with a full range of legal services necessary for the successful operation of an R&D center in Ukraine. We know how to handle tax planning and use government tax incentive programs. Moreover, your company will maintain its competitiveness thanks to the protected intellectual property rights.

Transparent processes

Our team maintains detailed records and reports so that you can control all current processes.
Conclusion
As you can see, the dedicated team model can have many limitations. However, there is a good alternative, such as creating your R&D center. This method helps to eliminate the weaknesses of the dedicated development team and double its strengths.